About the course
Training in the general provisions for the carriage of dangerous goods by road is a legal requirement for all persons involved in their transport.
This includes manufacturers, transport office staff, packers, loaders, drivers if they do not hold an ADR licence, and all persons involved in the preparation and transport of dangerous goods packed as limited quantities and excepted quantities.
This course will provide you with a general overview of the ADR provisions. The course is entirely online and allows you to work through at your own pace.
Downloadable guidance is included with the course for you to reference back to at a later date, lessons are accompanied by quizzes and complex provisions are explained by video with accompanying examples.
Please note that the 2023-2025 version of this course is now available to purchase here.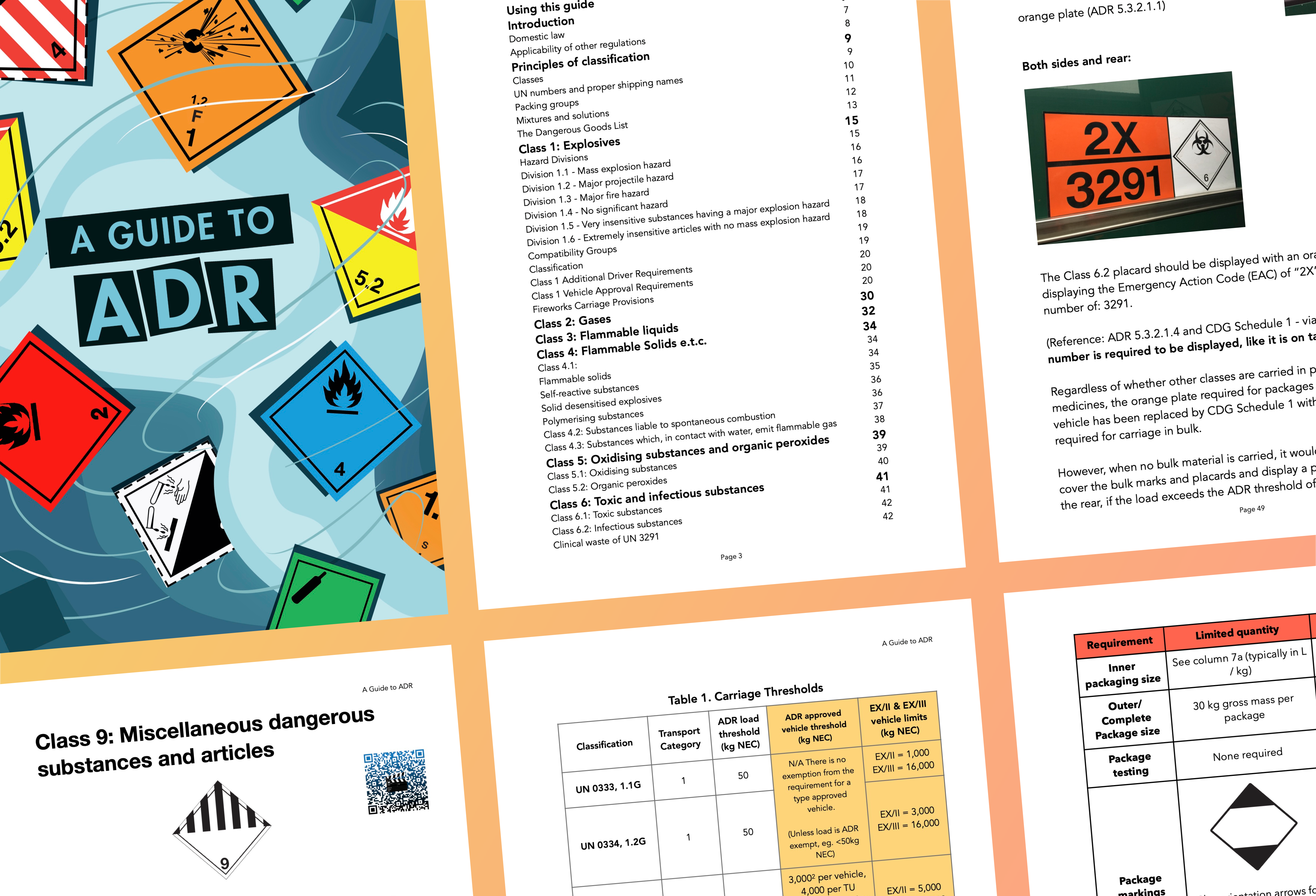 A downloadable PDF written by our experienced Dangerous Goods Safety Advisers.
Packed full of clear explanations, experience, figures and tables to help put your learning into practice and reference back to once you've passed the course.
Additional information
This training is also designed to fulfil the theoretical requirements of the function-specific and safety training, as detailed in ADR Chapter 1.3, for common roles such as packers, loaders, unloaders and consignors. 
However, because all operations are different, we can not verify the competency of employees, which we recommend should be monitored or verified by the employer.
The course price is £66.00 per user excluding VAT.
A VAT invoice will be emailed to you automatically following your purchase. The rate of VAT is determined by your location.
Please click here if you would like to pay for multiple users via emailed invoice (we offer discounts for multiple purchases!) or pay via invoice instead of by card online, and click here to purchase on behalf of someone else online or purchase multiple copies online

Check your inbox to confirm your subscription